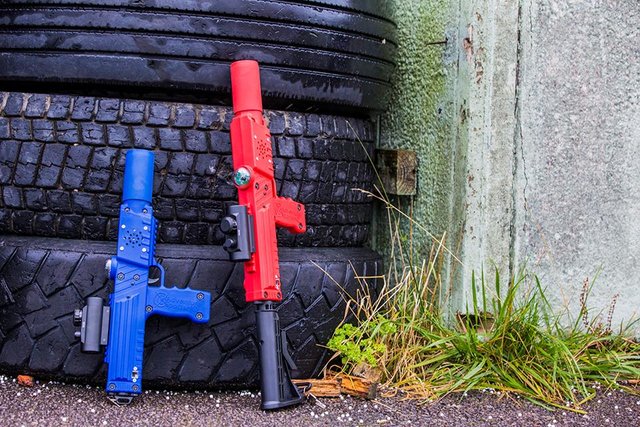 Adventure Sports Laser Tag
Price: varies, read description below
Attendants Required But Not Provided: 1





To reserve, Call (217) 498-8774 or Email games@mchsi.com. Be sure to include your address & phone # in your email or voicemail.

Urban Adventure Sports Laser Tag Package
Safer than paintball and more engaging than video games, laser tag throws you into the middle of exciting competitions of your own. For those wanting to play laser tag with stand alone taggers and bunkers/blinds, we have the Adventure Sports Laser Tag system. Made of the same space-age materials that precision firearms are made of, our taggers are durable and rugged for Urban Commando Tactical Competition.

We can customize the packages based on how many taggers you would like to rent (6 to 12 taggers) as well as how long you'd like to play them. You can also provide your own bunkers/blinds (trees work well too!) or have ours included in your package. We can set the taggers for team play, every man for himself play, limited or unlimited ammo/lives, more. You tell us about your event and we will help you decide how you'd like to play.

Daytime Party Packages, you provide your own bunkers/blinds/obstacles to hide behind:
Silver Package: 2 hours of play, $20 per tagger
Gold Package: 3 hours of play, $30 per tagger
Platinum Package: 4 hours of play, $40 per tagger

Add our bunkers/blinds to any package above for only $100.

Kids love the camo theme. Add facial camo face paint for all members of your party (up to 15 players) for only $85. With varying shades of browns, greens, gray, and black, your players will feel like they are really getting into the game. (Face paint artist will stay for one hour so anyone wanting painted must be present that hour). Additional time can be added for $70 per hour.

Want some add on party favors for your guests? Ask us about putting together some surprises for your guests to take home.

Want us to staff and supervise the games so you don't have to? Schedule an attendant for $50 an hour. If no attendant is hired, there is a $50 damage waiver that is added to the bill.

We will arrive approximately 60 minutes prior to party time (as our schedule allows) and train you on the system (if an attendant is not hired) and setup bunkers if reserved.

We can set up in your yard or inside a gymnasium type room.
Call us for more details! (217) 498-8774