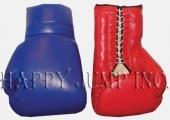 Boxing
Outlets: 1 blower, need 1 separate 20 amp circuit
Price: $275
Attendants Required But Not Provided: 1





To reserve, Call (217) 498-8774 or Email games@mchsi.com. Be sure to include your address & phone # in your email or voicemail.

These over-sized gloves are rented with our basic bounce. Have fun sparing with your friends in a boxing ring (bounce).
These gloves are approximately 2 feet long and well padded. In addition to the bounce and gloves, they also come with protective head gear, all for just $275.
Please see the blue section at the bottom of the page for delivery areas.