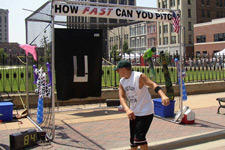 Speed Pitch
Outlets: need 1 separate 20 amp circuit
Price: $275
Attendants Required But Not Provided: 1





To reserve, Call (217) 498-8774 or Email games@mchsi.com. Be sure to include your address & phone # in your email or voicemail.

How Fast Can You Pitch?
From kids to adults, everyone loves to see how fast they can throw. Can they beat their friends? Who throws the fastest? Who can guess their speed?

Whether you are planning your kids birthday party or putting on a post prom, this is for you. The speed pitch radar gun, score read out box, netted cage, and target backdrop can be rented for your event for just $275. The setup space required is approximately 12 ft by 15 ft with enough room in the front for the person throwing.