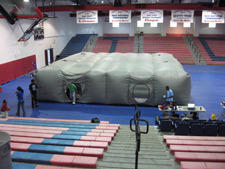 Late Night Laser Tag
Actual Size: 40 feet by 40 feet
Setup Area: 50 feet by 60 feet
Outlets: 3 blowers, need 3 separate 20 amp circuits
Price: call for pricing





To reserve, Call (217) 498-8774 or Email games@mchsi.com. Be sure to include your address & phone # in your email or voicemail.

Laser Tag Xtreme
Located in the heart of the Midwest in Central Illinois (Springfield, Illinois) Capitol City Speed Demons Brings the Excitement to YOU! We are mobile--We come to you!
Our Laser Tag System is ideal for :
Post Proms

Post Graduation parties

College/Universities events

Church Youth Groups

Birthday Parties

Team Building

School Activities

Fund Raising

Corporate Events

Fun Fairs

Family Day

Family Reunions

Bar Mitzvah

and much more...
Pricing is based on type of event, time of event, and location. We offer special pricing for local 2 hour parties during the daytime hours (such as birthday parties). For other types of events, please call us at 217-498-8774 for a price quote.
See this page for

setup requirements

.
WE OFFER THE BEST MOBILE SYSTEM AROUND!
While others may claim that they have a "mobile laser tag system" most carry just cheap guns and/or vests, not the top of the line quality that a LaserForce system offers. With our system, you play with the same high quality equipment that an indoor facility can offer.
Plus the "others" just put up a few bunkers in an open area for the players to hide behind to play the game.
WE OFFER A 40 X 40 FOOT INFLATABLE ARENA, with many different rooms, with doorways, hallways, and windows. It is like playing in a 1600 square foot inflatable house. Inside the "house" there are black lights, strobe lights, and fog.
So before you rent a laser tag system for your event, make sure you are getting a high quality system like ours-- that offers:
Lock-on tone

--The locked-on-to-target sound tells players when they have acquired a target and that, if they pull the trigger, they will score a hit. This is an invaluable aid for beginners.
Successful tag shot sound

--Laserforce provides different sounds for shots that hit and shots that miss. It is the only system in the world where players receive both a fire and hit sound. Every other laser tag system provides only a fire sound, regardless of whether the shot hits or misses.
Muzzle flash

--Realistic and spectacular ultra-white lights simulate muzzle flash when a player fires a gun.
Shoulder speakers and onboard real-time speech advice

--Shoulder speakers send perfect clear sounds to nearby ears. The onboard digital speech processor is one of Laserforce's most advanced and exciting features. During the game, the battlesuit itself provides more than 300 messages and sound effects, including advice, encouragement and excitement. This adds amazing realism to the game.
Independent hit zones

--The battlesuit's shoulders, back, chest and phaser are all hit zones. Each one flashes independently when hit.
Individual or team games

--With our system you can play a variety of games. It can be every man, woman, or child for themselves...every one shoots everyone. Or you can play different type of team games from boys versus girls, parents versus kids, etc all the way up to 5 different teams of two on a team.
Real time scoring action

--Your friends can watch real time scoring action on our external monitor while they are waiting to play too. They can know who is shooting who, who just got killed, who activated rapid fire, who is winning at the present moment.
Check out our pictures and videos below to see the excitement and fun our system offers.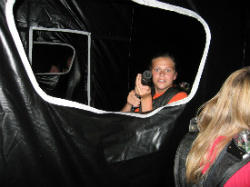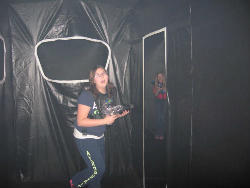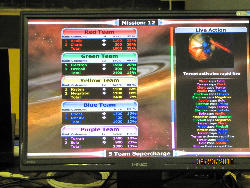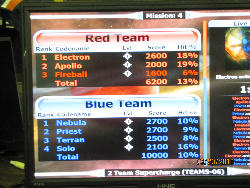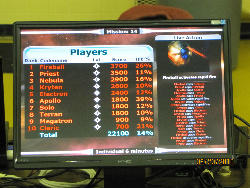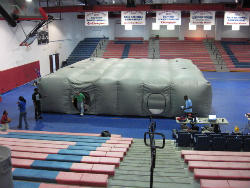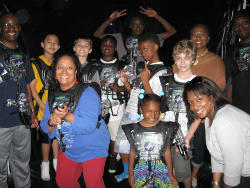 Watch a quick video of a laser tag event and see the FUN the players are having. Just click on the You Tube link below.