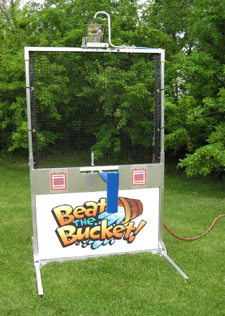 Water Fun Beat The Bucket Water Game
Price: $175
Attendants Required But Not Provided: 1





To reserve, Call (217) 498-8774 or Email games@mchsi.com. Be sure to include your address & phone # in your email or voicemail.

Beat The Bucket
Monday thru Thursday Special (holidays excluded, no double discount) just $150!
A great alternative to a dunk tank! Always clean water to get soaked with. Uses less water but still accomplishes the same thing---someone is getting wet and someone gets to practice their aim---but with an additional twist---the person about to get wet also gets to try and defend themself.

Looking for a great water game that lets you battle your friends? Well look no further!

TThis rents for $175*. Week day special (Monday thru Thursday, excluding holidays) is only $150*.
Please see the blue section at the bottom of the page for delivery areas.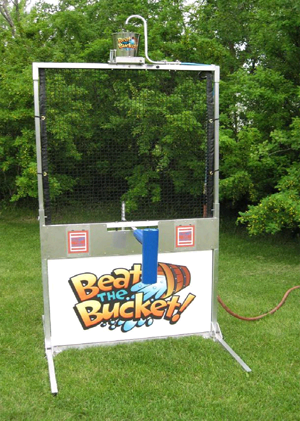 Beat The Bucket is unlike any rental game you have ever seen. More interaction, increased competition, and a twist of technology have helped to create a unique experience for all involved. In almost all water games, a single player stands or sits while a second player tries to hit a target that will dump, dunk, spray, or splash them. Unfortunately for the victim, there has been no means of defending themselves... until now.

Beat The Bucket allows a player the opportunity to control their fate; provided they have the reaction time and skill to do so. A single player stands behind the station and with the aid of a blocking arm, can defend the two targets from being hit. A second player throws water-logged balls (or Juggle Balls, Tennis Balls, Nerf Balls) while trying to hit the 2 targets. If the player using the blocker can act quickly enough, they can stop the ball from hitting the target. However, should the ball happen to strike a target, a cool, refreshing bucket of water is dumped from above. The bucket then automatically resets and fills with water, ready for the next defender.

Take turns at birthday parties or wind-ups, or find that hi-profile celebrity willing to play for your next fundraiser.

Low Water Consumption

No Age, Ability, or Physical Restrictions